All year we have been keeping track of those that refer into our office and we think you know who you are. We put your names into a draw for an iPod touch and now we are going to announce the winner in style.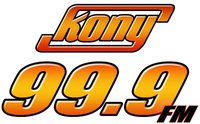 On October 10, 2012 we will be LIVE with the Kony Country Radio Station 99.9 from 11am to 1pm for the big announcement. We are also giving away prizes and gift certificates for listeners on the air.
Don't miss out on this ONE YEAR anniversary of Simply Health Chiropractic and your health!